Halloween Spirit
I absolutely LOVE Halloween in New York City. Here in the city, Halloween is not just for kids. Everyone- young and old gets into the act and embraces the Halloween spirit. There's really nothing quite like it. I never get tired of it. But this year the experience of Halloween took on a special meaning for me.
On this night every year, you'll see costumed people all around town, in the streets, on the subway and at local businesses. Yes, indeed, New York City is the place to be on Halloween. It is home to one of the largest celebrations of Halloween in the world.

The best place to be on Halloween in my opinion, and the reason why Halloween is so big in New York is the Halloween parade. The heart of it all is in the Village.
Halloween has and always will play a big part in my life for obvious reasons, but I wasn't always so enthusiastic about Halloween and all its regalia.
As a child I often had Halloween-themed birthday parties, but by the time Halloween actually rolled around it was freezing up in Ottawa where I grew up! So I'd have to wear a winter coat and lots of layers when I went out trick or treating. Because of that I was never able to wear the costumes that I really wanted to wear. I'd either have to wear something that would fit on top of all those layers or underneath my coat and that just would not do. Though I never got to wear the costumes that I wanted to wear, I must admit it was still fun trick or treating, especially since it meant coming home with a couple of months supply of free candy! In the end it seemed all worth if for all the sweet loot that my sister and I collected.
Later on I went through a stage in which I swore off dressing up for Halloween. It wasn't until after spending 6 years in Taiwan that the New York Halloween spirit reeled me back in. When I moved back to New York from Taiwan, in 2007, I remember receiving an evite to a friend's Halloween costume party. The evite said something like "ladies wear something sexy but classy and have a story about why you're dressed up as a particular character." I thought to myself, if I'm going to get dressed up, it has to be all or nothing and I might as well go all the way. And with that I was inspired to be bold, so I dressed up as… Wonder Woman. That was WAY before the Wonder Woman movie and resurgence of interest in Wonder Woman. And the costume was definitely a winner. I had the women's vote and the men's vote for best costume at the party. That was it! From that moment on, I decided to completely celebrate being a Halloween baby and I haven't looked back. I've had more fun celebrating Halloween as an adult and have probably worn more different costumes than I did as a child! Some might say that I'm making up for some lost childhood desires, but I'm just having fun playing dressing up.
I've done the New York City Halloween parade too many times to count- I've walked in some part of the parade, and worked as a volunteer parade marshal. What does a parade marshal do? They help corral the onlookers along the route of the parade.
This year the plan was to walk in the Halloween parade again, but we got a late start due to some intense makeup prep. I've never done such elaborate face makeup, but this seemed like the year to do it.
So instead we just decided to go to the heart of it all- the Village to see what was going on. This was something a bit different because I've usually watched or walked in the Halloween parade, never just wandered about in the streets with people out for the night. When we got there, there were tons of people milling about in the streets dressed in costume. You know what that means- tons of photo ops!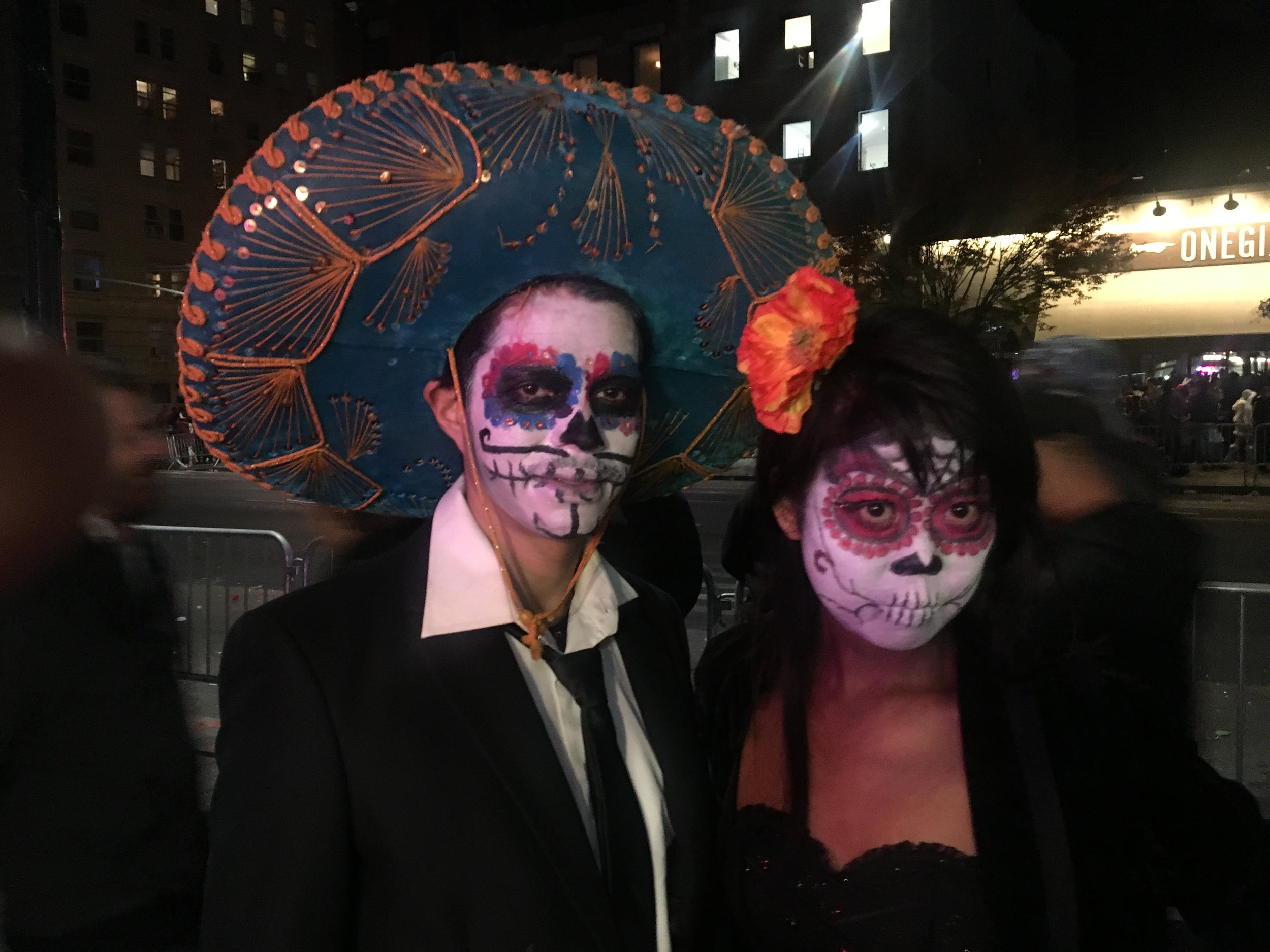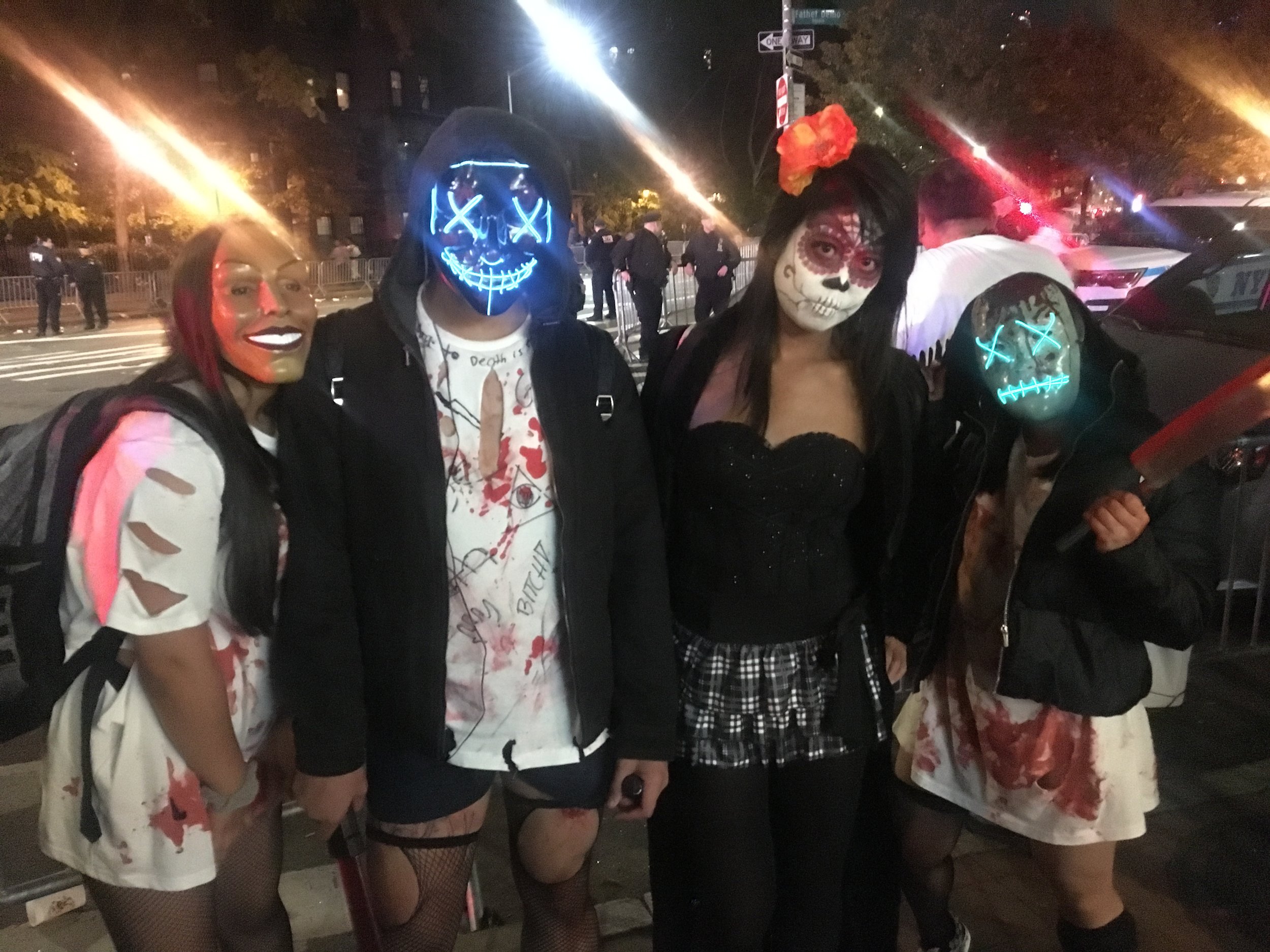 It was such a fun, festive atmosphere. As we wandered about the streets, strangers approached us asking to take photos of us, and we obliged of course. It was the ultimate compliment, to know that people were so impressed by our costumes that they wanted to capture it.
There were so many amazing costumes that we started approaching others in costume, asking them if we could pose with them for a photo. Everyone we approached was so receptive and there was this instant sense of camaraderie among all of us the "costumed." There was a mutual admiration for each other's costumes, playful hamming it up for the camera, and fist bumps, hand clasps, and high fives. We were essentially posing alongside these complete strangers, with whom we were having such fun. I thought to myself I have no idea who these people really are under all the makeup, masks and costumes. But does it really matter? People are people.
This was in stark contrast to all of grim hate crimes that had swept the nation just a week before- the pipe bombs that were mailed to several prominent politicians and media figures, two African Americans shot at a Kentucky Kroger store, and the shooting at a Pittsburgh synagogue which left 11 dead- all of which happened in 72 hours. These incidents had all been sobering, unsettling reminders that no one is safe and that tremendous hate exists in this world.
There I was at the Halloween parade experiencing just the opposite, wishing that if only people could be more color-blind, loving and tolerant toward each other- the way that people were interacting at the parade.
It actually restored my faith in people. I want to believe that there are good people in the world and that we can combat hate one by one on an individual basis. I believe that the best way to prevent hate and divisiveness is to start with your local community and to seek out those who have a vastly different background from you. Hate of a certain group of people could be viewed as a type of fear of the other we do not know or understand. By interacting directly with others, we come to identify with and to relate to them. It is my hope that we all take the time to do this and to focus on our common humanity and how we can all co-exist rather than fight for the self-interest of one narrowly defined group.